David Parrish will speak on 'Strategic Marketing for Business Success' at the next 'Think Big' event in Liverpool on 20th May 2015.
The event theme is 'Growth through marketing: a practical guide'.
Tickets and further details online here:
https://www.eventbrite.co.uk/e/growth-through-marketing-a-practical-guide-tickets-16204913332
This breakfast meeting is sponsored by NatWest and organised by Elephant Digital.
Details also on Kin2Kin site for Liverpool's creative and digital community.
---
Event overview
How do you make a good business great? How can businesses in the North West gain the upper hand? Join us for an engaging and insightful session of eye-opening talks that will inspire you, and your business, to take the next step in your growth.
This seminar will give you everything you need to get yourself up to speed in the emerging world of sales, marketing and digital.
---
David Parrish (Adviser, Trainer, Speaker & Writer)
Strategic Marketing for Business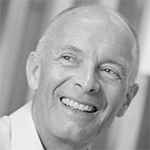 A specialist in strategic marketing, David Parrish has advised businesses world-wide. As well as direct experience of growing businesses, David also has professional qualifications including an MBA, CIM 'Chartered Marketer' status and a member of the Institute of Business Consulting.
He is the author of the book: 'Chase One Rabbit: Strategic Marketing for Business Success' (5* Rated)
David advises creative businesses, digital enterprises and cultural organisations on their marketing strategies. He has a track record in helping businesses to make their marketing more successful by providing marketing advice that is in tune with clients' values and objectives.
"AMAZING! The workshop has changed the way I think about marketing, and I have lots of new ideas. Dave Parrish was brilliant."
Christopher Moss. Gecko Design Ltd.
Strategic marketing advice is David's speciality. Effective techniques and examples of strategic marketing feature highly in his management consultancy, training workshops, speeches and writing.
David works through business growth projects including Growth Accelerator and Growth Vouchers to provide strategic marketing advice, as well as directly contracting with clients in the creative industries to provide strategic marketing consultancy. He is a Registered Expert with the UK Government backed Business Growth Service.
International Marketing is a part of David's skillset and draws on his international experience of business in more than 30 countries world-wide. He understands the opportunities and challenges of international business development from growing his own businesses internationally and helping clients to increase exports. His international business expertise includes an understanding of business etiquette and customs in a range of countries and cultures around the world. He gives international marketing advice as a consultant, speaker, trainer and writer.
Download document summarising David's experience and expertise as a marketing adviser, trainer and speaker.
63 creative marketing tips, techniques and tales are in his book 'Chase One Rabbit: Strategic Marketing for Business Success', available now as an eBook to read on your phone, or in paperback. His advice is based on his work helping creative enterprises world-wide to become even more successful.
"David is a marketing expert who understands and emphasises the importance of strategic marketing when growing a business. It's really helpful to be able to talk things through with him as we grow."
Rhiannon Eames-Jones. Milky Tea Ltd. UK